---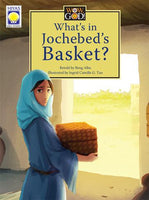 Wow, God: What's Jochebed's Basket
ISBN: 9789710092543
Weight: 0.09 kg
Description:
Retold by Beng Alba-Jones
Illustrated by Ingrid Camille Tan
Jochebed is scared. She knows that very soon the Egyptians will discover her family's secret. What should she do? Who could she trust? Why is her basket special? Jochebed's Basket is part of the "Wow, God!" series from Hiyas, the children's book imprint of OMF Literature.