---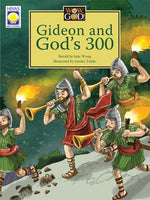 Wow, God: Gideon and God's 300
ISBN: 9789710092512
Weight: 0.09 kg
Description:
Retold by Jojie Wong
Illustrated by Jomike Tejido
Israel is in Big Trouble! Thousands and thousands of enemy soldiers are ready to attack Israel! God commanded Gideon to fight for Israel. But before Gideon and his men go to battle, God tells Gideon to do something surprising. Gideon is afraid and worried. If he obeys God, how will his army win in this battle? Gideon and God's 300 is part of the "Wow, God!" series from Hiyas, the children's book imprint of OMF Literature.