---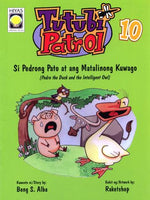 Tutubi Patrol #10 Si Pedrong Pato at ang Matalinong Kuwago
ISBN: 9789715116787
Weight: 0.06 kg
Description:
Written by Beng Alba-Jones
Illustrated by Raketshop Studio
(Note: This is written in English with parallel Filipino text)

Pedro the Duck enjoys playing tricks on his friends. He cooks up stories to scare the,. What fun he has when they get frightened! And so his friends avoid him.
One day, something happens to Pedro that teaches him an important lesson...
Shipping and Delivery:
Products are shipped around 3-5 business days in Metro Manila, and 5-7 business days outside Metro Manila,
 

upon payment confirmation.