---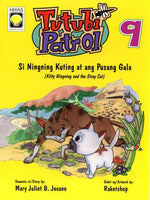 Tutubi Patrol #09 Si Ningning Kuting at ang Pusang Gala
ISBN: 9789715116565
Weight: 0.06 kg
Description:
Written by Mary Juliet B. Jocano
Illustrated by Raketshop Studio
(Note: This is written in English with parallel Filipino text)

Ningning the Kitten is so excited to venture out of Mang Juan's farm. She wants to visit lots of places. Daddy Peping and Mommy Muning say she must not go far. But Ningning still goes to the city. The problem is, she can't find her way back home.
How did the little kitten reach the city? How will she get home?
Shipping and Delivery:
Products are shipped around 3-5 business days in Metro Manila, and 5-7 business days outside Metro Manila,
 

upon payment confirmation.
Weekends and Holidays not included.