---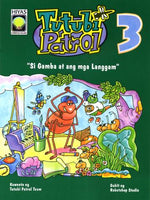 Tutubi Patrol #03 Si Gamba Gagamba at ang mga Langgam
ISBN: 9789715115452
Weight: 0.06 kg
Description:
Written by The Tutubi Patrol Team
Illustrated by Raketshop Studio
(Note: This is written in English with parallel Filipino text)

Tutubi Patrol introduces Gamba, the spider. Gamba can do many things all at the same time and he dreams of becoming famous. But did his dream come true? Let's ask the ants.