---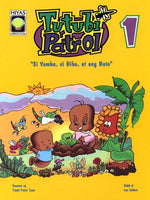 Tutubi Patrol #01 Si Yambu, si Bo, at ang Buto
ISBN: 9789715115346
Weight: 0.06 kg
Description:
Written by The Tutubi Patrol Team
Illustrated by Leo Cultura
(Note: This is written in English with parallel Filipino text)

Introducing the Dragonfly Patrol: the news-bearing team of Tobi and Yobi Dragonfly! Their first story features Yambu, the coach who thought of nothing but winning the game. He didn't know that a different prize awaited him!