---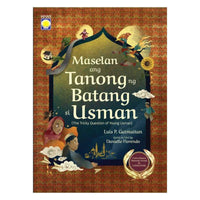 Young siblings Noraida and Usman, both Meranaw chil dren, need to evacuate quickly. They can already hear the gunfights and explosions in some parts of Marawi City. But where will they go? Is there a safe place for their family? Who are their allies in this war? Could they ever go back home? This story shows how the children face the battles in their lives.
Maselan ang Tanong ng Batang si Usman is a story about the effects of the Marawi siege on people, especially children.
AWARD: First prize, 69th Carlos Palanca Memorial Awards for Literature–Short Story for Children (Filipino Category)
BOOK DETAILS
AUTHOR: Dr. Luis Gatmaitan
ILLUSTRATOR:
Danielle Florendo
LANGUAGE:
Filipino & English
FORMAT: Softcover, Chapter Book 
ABOUT THE AUTHOR
LUIS P. GATMAITAN is a medical doctor and author of more than 60 books for children and other non-fiction titles. Among the books he has written are the HIYAS classic Sandosenang Sapatos and the popular children's health series, Mga Kuwento ni Tito Dok. His books have been translated to several languages and adapted to musicals, animations, apps, and theater productions. A Hall of Fame awardee of the Carlos Palanca Memorial Awards for Literature, he was also recognized with a Ten Outstanding Young Men of the Philippines (TOYM) Award in 2003, a Gawad Dangal ng Wika in 2009, and a Gawad Pambansang Alagad ni Balagtas in 2017. Dr. Gatmaitan is the Chair of the National Council for Children's Television (NCCT) and the former President of the AIDS Society of the Philippines.
ABOUT THE ILLUSTRATOR
DANIELLE FLORENDO is an illustrator currently based in Baguio City. After graduating with a Bachelor's Degree in Fine Arts, she pursued a career as a full-time illustrator. Dani is an advocate for children's literacy and education. She is a member of Ang INK (Ang Ilustrador ng Kabataan).