---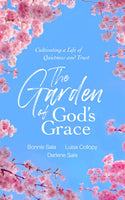 ISBN: 9789710099047
Description:
Imagine Jesus meeting you in this beautiful garden and welcoming you to sit at His feet and tell Him everything – all the thoughts, worries, fears, doubts, and frustrations swirling in your head.
In this devotional, Darlene Sala, Bonnie Sala, and Luisa Collopy share 52 life lessons on how to deal with loneliness, loss, finances, death, and other challenges. Each devotion invites you to reflect, take a positive course of action, and have a meaningful conversation with God. Take some time off from your busy schedule to visit the garden of God's grace, where Jesus awaits to give you refreshment and encouragement.
ABOUT THE AUTHORS
Bonnie Sala has taken Guidelines global in its second generation, expanding the ministry through enthusiastic cultivation of Great Commission partnerships among the body of Christ worldwide. Bonnie writes and voices daily Reset audio devotional, which comes from her favorite time of the day—early mornings spent with Jesus and His Word. Reset is heard on-air in the U.S., the Philippines, Singapore, and throughout Africa, as well as online and podcast. Bonnie co-authored the revised edition of Created for a Purpose with her mom, Darlene Sala, as well as Thrive: Journey into Grace, with Darlene Sala and Luisa Collopy. Bonnie enjoys traveling with her husband, Kevin Condrin, and loves hanging out with her two adult sons and her frisky fox terrier, Cinnamon.
Luisa Collopy, Guidelines International Ministries' director of media, is the author of What Women Can Do When Life Falls Apart and When a Man Loves a Woman, and co-author of Thrive: Journey into Grace with Darlene Sala and Bonnie Sala. She also produces Mula sa Puso, a daily three-minute Tagalog program heard over select FEBC Philippine stations and twr360.org. Using her voice for chapter readings of the Book of Psalms for Cru's her.Bible project, Luisa is always open to work with other ministries to help spread the Gospel. She also teaches a home Bible study for women. Luisa loves hanging out with her family over meals and karaoke. She is also enjoying her new role as grandma to Josef Leif.
Darlene Sala has encouraged and inspired women the world over through her 15 books and long-running, popular audio devotional, Encouraging Words, which is heard on radio in the U.S., Philippines, Uganda, Kenya, Albania, and Macedonia, online and podcast. Darlene's books have been translated into eight languages. Her best-selling book, Created for a Purpose—Hope for the Woman Struggling with Self-esteem, has been rereleased in a millennial edition, co-authored with her daughter Bonnie Sala. Darlene and her husband, Dr. Harold Sala, of the radio devotional Guidelines for Living, founded Guidelines International Ministries in 1963 and have ministered worldwide, ever since. She enjoys living close by her three adult children and several of her eight grandchildren.