---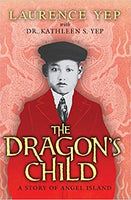 Age Range: 8 - 12 years
Grade Level: 3 - 7
Lexile Measure: 640
Paperback: 160 pages
Publisher: HarperCollins
Language: English
ISBN-10: 0062018159
ISBN-13: 978-0062018151
Product Dimensions: 5.1 x 0.3 x 7.6 inches
Shipping Weight: 4.8 ounces

Did you want to go to America?
Pop: Sure. I didn't have a choice. My father said I had to go. So I went.
Were you sad when you left your village?
Pop: Maybe a little . . . well, maybe a lot.

Ten-year-old Gim Lew Yep knows that he must leave his home in China and travel to America with the father who is a stranger to him. Gim Lew doesn't want to leave behind everything that he's ever known. But he is even more scared of disappointing his father. He uses his left hand, rather than the "correct" right hand; he stutters; and most of all, he worries about not passing the strict immigration test administered at Angel Island.

The Dragon's Child is a touching portrait of a father and son and their unforgettable journey from China to the land of the Golden Mountain. It is based on actual conversations between two-time Newbery Honor author Laurence Yep and his father and on research on his family's immigration history by his niece, Dr. Kathleen Yep.