---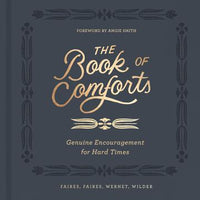 The Book of Comforts
ISBN: 9780310452065
Weight: 0.68 kg
Description:
When someone is grieving, what should we say? How can we help? How do we comfort without offering shallow platitudes? In times of sorrow Scripture beckons us to look up and out, because our help comes from the Lord. The Book of Comforts stands in the gap between suffering and hope, offering readers the abiding comfort found in Scripture.
The Book of Comforts is a beautiful four-color book of readings that offer biblical consolation and encouragement in seasons of trial and grief. Scripture selections are accompanied by brief devotions, alongside designed Scripture passages and photography.
Grief, loss, and pain are significant and unavoidable parts of the human experience, but they're often overlooked or minimized. In moments of heartache and challenges we either crumble or we discover the richness of God's love. Scripture deals plainly and honestly with suffering and simultaneously points people the rich hope we find in God.
The Book of Comforts
Offers long-term comfort in a beautiful and inviting format
Designed to be accessible to a wide audience
Visually attractive and engaging
Scripturally focused
The Book of Comforts offers a meaningful way to walk through hurt, heartache, challenges and difficulty, aided by the truth of God's Word. It is a beautiful and comforting gift for those in hard places—because though we don't always know what to say, the gift of divine consolation is always helpful.