---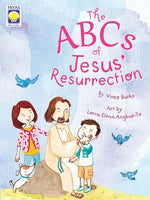 The ABCs of Jesus' Resurrection
ISBN: 9789710095117
Weight: 0.13 kg
Description:
Written by Vince Burke
Illustrated by Lorra Elena Angbue-Te
The truth that Jesus died and rose again to save us is the most important message children can know and believe. In this book, children can learn about the Resurrection of Jesus through each letter of the alphabet. Also featured are Bible verses on the Resurrection which children can memorize. Written in rhymed verse.