---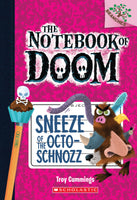 Branches
Sneeze Of The Octo-Schnozz: A Branches Book (The Notebook Of Doom #11)
By : Troy Cummings

Genre: Chapter book
Lexile Measure: 490L
ISBN: 9781338034486
Age Level: 6 - 8
Format: Paperback

Pick a book. Grow a Reader!

This series is part of Scholastic's early chapter book line Branches, aimed at newly independent readers. With easy-to-read text, high-interest content, fast-paced plots, and illustrations on every page, these books will boost reading confidence and stamina. Branches books help readers grow!

Everything stinks! Alexander, Rip, and Nikki aren't in the same class anymore. The monster notebook is missing. And a HONKing monster is sliming Stermont! Plus, actual smelly stuff is going missing all over town. Could all of these stinky things be connected? The S.S.M.P. will have to sniff out their latest monster!