---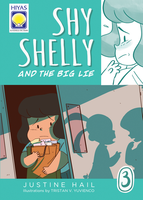 Shy Shelly 3: Shy Shelly and the Big Lie
ISBN: 9789710098408
Weight: 0.13 kg
Description:
Written by Justine Hail
Illustrated by Tristan V. Yuvienco

Shelly is in big, big, big trouble!
When the Claustro Field Crickets' trophy goes missing, the Secret Squad makes it its mission to find the trophy and its thief. But it seems like Shelly knows more about the missing trophy than she lets on?
As the rest of the Secret Squad comes closer to discovering the truth, Shelly is put in a tight spot.
Can Shelly trust Jake—the class bully—to help her?
Or will she face the consequences of her big mistake?