---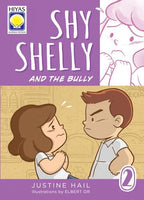 Shy Shelly 2: Shy Shelly and the Bully
ISBN: 9789710095735
Weight: 0.13 kg
Description:
Written by Justine Hail
Illustrated by Elbert Or
The Second book in the Shy Shelly series. Shy Shelly and her group The Secret Squad deal with Jake the bully. Everything was going according to plan until Shelly stumbles into something that she shouldn't have seen.
There is an old saying that revenge is a dish best served cold. For The Secret Squad—Shy Shelly's new group of friends—it could also come in the form of tasty but icky treats, which they plan to serve Jake Ponce.
Sure, Jake and his friends could be mean, but is Jake really what he seems to be? Follow our quiet heroine and find out if the class bully is really deserving of the Secret Squad's sweet revenge.

This book also:
Tackles common issues concerning tweens
Features a must-try recipe for a super simple chocolate cake
Includes a handy guide on how to fix a hole in your pants
Comes with a free bubble thoughts journal