---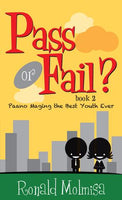 ISBN: 9789710094615
Author: Ronald Molmisa
Category: Books by Ronald Molmisa, Christian Living, Taglish
Weight: 0.12 kg
Description:
(Note: This book is written in conversational Tagalog-English)

Pass or Fail is an informative series on personal development for the youth, covering how to become the best student you can be to how to prepare for life after graduation. An important resource for students, graduates, and everyone who wants to become the best version of themselves.

"After makuha ang diploma, ano na?

OK lang na pagkagraduate ay bumawi ka muna sa tulog (from your many sleepless nights kakatapos ng requirements) pero wag maiwang natutulog sa pansitan.

Young person, welcome to the real world of getting no more allowance and paying your own bills! Eto na ang moment mo to shine. Prove to yourself and to others na kaya mo nang tumayo sa sarili mong mga paa. And with God by your side, who knows kung gaano kalayo ang mararating mo?

INSIDE FACTS
Serving Size: 1 reader
Wala nang Pabebe
Ikaw Na!
Ramdam Kita!
Push Mo Yan!
Bahala na si Batman?
Grow pa more!
Para Kanino Ka Bumabangon?
Achieve na achieve!"