---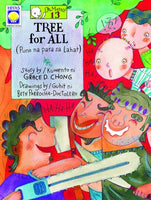 Oh Mateo! #13: Tree for All
ISBN: 9789710091096
Weight: 0.09 kg
Description:
Written by Grace Chong
Illustrated by Beth Parrocha-Doctolero
(Note: This book is written in English with parallel Filipino text)
Follow the adventures of endearing 6-year-old Mateo, a farmer's son from Umingan, Pangasinan. Teo meets odd people and stumbles into strange situations, but in every encounter his admirable character shines through. Teo's example inspires children to love God and others in everyday life. The 13th book in the Oh Mateo series teaches Teo and young kids that they are never too young to be eco-friendly. The kids will surely enjoy the story of how Teo and his friend Gadong helps out Apong Cion as she defends her yard from those that wish to destroy the trees.