---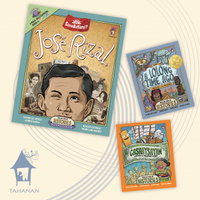 NEW BUNDLE! Halo-Halo Histories Set + SinoBayani?
Regular price ₱745.00
Tax included.
NEW BUNDLE!
Halo-Halo Histories Set
+ SinoBayani?
Written by Michelline Suarez, Joonee Garcia, Divine Reyes
Illustrated by Benjor Catindig
A Halo-Halo Espesyal
SinoBayani? Jose Rizal! 
What do we know about Rizal?
We know he was a hero, we know he wrote a couple of bestselling books, and we know that we have a national park named after him. But way before all of that, he was a kid. Small for his age, skinny and bullied. So what happened in between?
This is a book about the boy that existed before that hero happened–an awkward misfit who somehow found himself in a position of greatness. This is the story of Rizal told the Halo-halo way, and we hope it will help you get to know him a little better.
Without connecting Rizal's context to the present, he will cease to be relevant. This book makes Rizal come alive for today's Filipinos–the very youth whom Rizal called the "fair hope of the Motherland." – Xiao Chua, public historian
Halo-Halo Histories Book 1
A LOLONG TIME AGO: A Prehistory of Philippines 
Who doesn't love a good story? That's what HIS-story means — the story of us! Our prehistoric lolos and lolas were cool, interesting, and clever folks. Meet them and our country's first families up close in this fascinating book about how our islands were formed, how our earliest ancestors lived, and the beginnings of our nation.
"A must-have on every Filipino child's bookshelf." – SmartParenting.com.ph
"With a wink and a nod to the Internet generation… [here] is history told with a twist… sure to keep even the most reluctant of readers going until the last page." – The Philippine Daily Inquirer
Halo-Halo Histories Book 2
CASHAYSAYAN: A History of Philippine Money 
Some people say that "money talks." We agree! Our coins and bills tell us a lot about what is special about our country and people. In this book we give you the bottom line on how money was invented, how it came to our shores, how it's made, and why it looks the way it does. Hang on, as we SHOW YOU THE MONEY–and get to know who and what's in your wallet.
"A fun way to learn about history!" – BPI Foundation
"This book reminds us that our economy has a story. That money is not just currency, it carries with it meaning, identity, and our shared experience." – Xiao Chua, public historian
English • Ages 9 to 99! • includes Halo-Halo Histories Books 1 & 2 + SinoBayani? Jose Rizal! A Halo-Halo Espesyal