---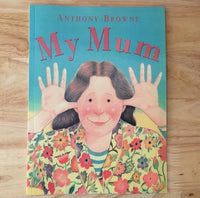 MY MUM
We first meet Mom over a cup of coffee, clad in a floral robe. The robe is ever present as her child describes her wondrous abilities and traits. The ultimate message that shines forth is: "I love my mom. And you know what? SHE LOVES ME! (And she always will.)"
"With simplicity, strength, and complete understanding of children's perceptions, Browne uses the voice of an unseen child to praise one mother – and, by extension, all moms." 
Paperback
Size: 8.25" x 11.25"