---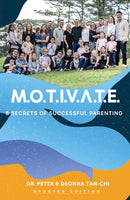 ISBN: 9789710098774
Description:
Using the acronym "M.O.T.I.V.A.T.E.", Dr. Peter Tan-Chi and his wife Deonna draw from biblical and personal experiences to share eight "secrets" of successful parenting.
Filled with anecdotes both personal and sourced from other people, M.O.T.I.V.A.T.E. contains tried and tested principles that are universal and timeless.

This Updated Edition dedicates a section on the dangers of digital technology and tips on how to do a family digital detox.
Chapters include:
●      MODELING the Christian lifestyle,
●      OPEN Communication,
●      Building relationships through TIME, 
●      Influencing your children through INTIMACY,
●      VISION (that gives Direction and Purpose), 
●      AFFIRMATION, 
●      Effectively TEACHING biblical principles and TRAINING your children, and 
●      ENTRUSTING them to God.
Appendices include:
●      Personal Learnings on Digital Technology,
●      Evidences on the Authenticity of the Bible, 
●      Does Science Disprove Christianity?,
●      Teaching Kids about Healthy Sexuality,
●      Recommended Resources on Parenting, and 
●      Connecting your Child with Jesus.
"Many parents have been searching for a book like this. It contains eight tried and tested principles on raising respectful and obedient children who we trust will grow up loving and serving the Lord.

●      It's Biblical - the principles and teaching are from the Word of God.
●      It's practical and down-to-earth - it draws from the life experience of Peter and Deonna, their children...and their grandchildren.
●      It's transformational - these principles changed the lives of Peter and Deonna and their family, and they will change the life of your family too."