---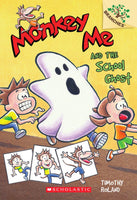 Monkey Me And The School Ghost: A Branches Book (Monkey Me #4)
By : Timothy Roland

Genre: Chapter book
Lexile Measure: 310L
ISBN: 9780545559898
Age Level: 6 - 8
Format: Paperback

This series is part of Scholastic's early chapter book line called Branches, which is aimed at newly independent readers. With easy-to-read text, high-interest content, fast-paced plots, and illustrations on every page, these books will boost reading confidence and stamina. Branches books help readers grow!

After eating the banana from a science experiment, Clyde changes from an average elementary school student into a high-energy monkey whenever he gets excited. Usually this causes Clyde a lot of trouble at school. But when someone dressed up like a ghost is seen walking around the hallways, only Clyde's special monkey-powers can save the day!