---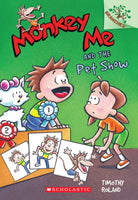 Monkey Me And The Pet Show: A Branches Book (Monkey Me #2)
By : Timothy Roland

Genre: Chapter book
Lexile Measure: 250L
ISBN: 9780545559805Age
Level: 6 - 8
Format: Paperback

Age Range: 6 - 8 years
Grade Level: 1 - 3
Lexile Measure: 510L
Paperback: 96 pages
Publisher: Scholastic
Language: English
ISBN-10: 0545559766
ISBN-13: 978-0545559768
Product Dimensions: 5.2 x 0.5 x 7.8 inches
Shipping Weight: 4 ounces

This series is part of Scholastic's early chapter book line called Branches, which is aimed at newly independent readers. With easy-to-read text, high-interest content, fast-paced plots, and illustrations on every page, these books will boost reading confidence and stamina. Branches books help readers grow!

Clyde is an energetic student who just can't sit still. When he gets too excited, he transforms into a real monkey! When the class bully challenges Clyde's "monkey me" to the pet talent show, he has no choice but to participate. But when the other pets start to disappear, Clyde uses his inner monkey to save the day.