---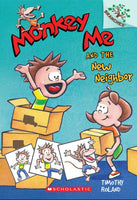 Monkey Me And The New Neighbor: A Branches Book (Monkey Me #3)
By : Timothy Roland

Genre: Chapter book
Lexile Measure: 260L
ISBN: 9780545559843
Age Level: 6 - 8
Format: Paperback

This series is part of Scholastic's early chapter book line called Branches, which is aimed at newly independent readers. With easy-to-read text, high-interest content, fast-paced plots, and illustrations on every page, these books will boost reading confidence and stamina. Branches books help readers grow!

Whenever Clyde gets excited, he changes from an average elementary school student into a high-energy monkey. This causes Clyde a lot of trouble at school. But what happens when Clyde gets a new neighbor? And that neighbor turns out to be the school principal. Will Clyde be able to stay calm at home?