---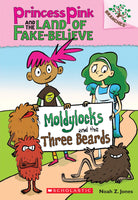 Branches
Moldylocks And The Three Beards: A Branches Book (Princess Pink And The Land Of Fake-Believe #1)
By : Noah Z. Jones

Genre: Chapter book
Lexile Measure: 570L
ISBN: 9780545638395
Age Level: 5 - 7
Format: Paperback

This series is part of Scholastic's early chapter book line called Branches, which is aimed at newly independent readers. With easy-to-read text, high-interest content, fast-paced plots, and illustrations on every page, these books will boost reading confidence and stamina. Branches books help readers grow!

In the Land of Fake Believe, Princess meets a strange girl named Moldylocks. When Princess's stomach grumbles, Moldylocks takes her to the home of the Three Beards. The girls sit in the Beards' chairs, eat their chili, and jump on their beds. The Three Beards are not happy when they get home--and they are very, very hungry! Will Moldylocks and Princess go into the chili pot? With easy-to-read text and engaging full-color artwork throughout, kids will be drawn right into this very funny land of fractured fairy tales!