---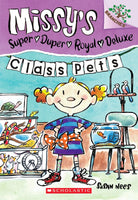 Missy's Super Duper Royal Deluxe #2: Class Pets
By: Susan Nees

ISBN13:9780545438520
Format:Paperback Book
Pages:80
Publisher:Scholastic
Weight (lbs):0.26100
Ages6 - 8
Grades:1 - 2
Lexile® Measure:510LL
DRA Level:20-24
ACR Level:2.2

Missy's second adventure is just as fun-filled as the first one!
This series is part of Scholastic's early chapter book line, Branches. Aimed at 5- to 7-year-olds, this line of books is for children who are just starting to read independently. With easy-to-read text, high-interest content, fast-paced plots, and illustrations on every page, these books will boost reading confidence and stamina. Branches books help readers grow.

Missy has BIG plans for the class pet…well, for three of them! She plans to have a fashion show, create a circus, and even put the pets in their very own parade. But a mean new girl in class, Tiffany, says she's taking the pets home with her instead. Missy enlists the help of her trusty friend, Oscar, to come up with a stellar plan. Just like with everything else, Missy takes the class pets home the only way she knows how--the super duper royal deluxe way! This is the second book in this humorous, full-color early chapter book series.

Contributors:

Susan Nees graduated with honors from the University of the Arts in Philadelphia. She has also received the American Institute of Graphic Arts Award (AIGA). Her artwork can be found at the Low Library of Columbia University and in special collections at Princeton, as well as in other collections. Susan lives with her husband, her two children, Jodo the Dog, and a small flock of chickens in Georgia. Missy's Super Duper Royal Deluxe is her first children's book series.