---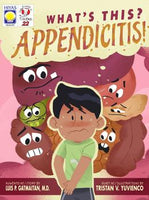 Mga Kwento ni Tito Dok #22: What's this? Appendicitis!
ISBN: 9789710097760
Weight: 0.09 kg
Description:
Written by Luis P. Gatmaitan, M.D.
Illustrated by Tristan Yuvienco
Poch got scared when he was told that his tummy ache might be caused by appendicitis. Was it because he had been jumping after eating? Or, could it be that he had eaten a lot of tomato and guava seeds? Does he need to undergo surgery? What role does the appendix play in our body? Can we still live normally without it?
The latest book in the popular series on health, "Mga Kuwento ni Tito Dok" (Stories of Uncle Doc). The book addresses appendicitis, a common illness among children, and aims to educate children, parents, and teachers on this common health issue.