---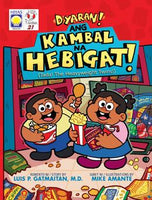 Mga Kwento ni Tito Dok #21: Dyaran! Ang Kambal na Hebigat!
ISBN: 9789710096541
Weight: 0.09 kg
Description:
Written by Luis P. Gatmaitan, M.D.
Illustrated by Mike Amante
(Note: This book is written in English with parallel Filipino text)
The latest book in the popular series on health, "Mga Kuwento ni Tito Dok" (Stories of Uncle Doc). The book tells the story of how siblings Chester and Cheska learned—in a hard way—that being fat doesn't mean being healthy.
The book addresses the health issue of obesity in children and helps educate children, parents, and teachers on proper weight and nutrition.