---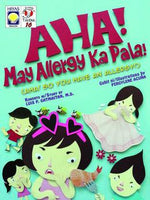 Mga Kwento ni Tito Dok #16: Aha! May Allergy Ka Pala!
ISBN: 9789710090648
Weight: 0.09 kg
Description:
Written by Luis P. Gatmaitan, M.D.
Illustrated by Pergylene Acuña
(Note: This book is written in English with parallel Filipino text)
 Julia is excited! She will be able to play with her cousins during the reunion of their relatives at the beach. But after tasting prawns for the first time, she learns something about herself when her body starts displaying strange symptoms.
Tackle the basics of the human body and promote good health through stories! "Tito Dok" Luis Gatmaitan, MD makes medical concepts fun and easy to grasp through imaginative tales and amusing characters. Kids learn to value and care for their bodies as God's creation.