---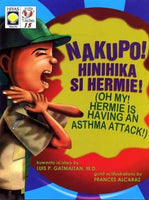 Mga Kwento ni Tito Dok #15: Nakupo! Hinihika si Hermie!
ISBN: 9789710090020
Weight: 0.09 kg
Description:
Written by Luis P. Gatmaitan, M.D.
Illustrated by Francez Alcaraz
(Note: This book is written in English with parallel Filipino text)
"Tito Dok" Luis Gatmaitan helps parents and children understand the basics of asthma. Learn what triggers asthma attacks and how you can prevent them through the story of Scout Hermie. While on a camping trip, Scout Hermie suffers an asthma attack. Will he have to sit out on all the camp activities? Is this the end of his scouting adventures? 
Tackle the basics of the human body and promote good health through stories! "Tito Dok" Luis Gatmaitan, MD makes medical concepts fun and easy to grasp through imaginative tales and amusing characters. Kids learn to value and care for their bodies as God's creation.