---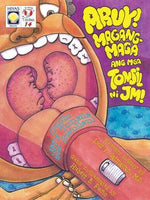 Mga Kwento ni Tito Dok #14: Aruy! Magang-maga ang mga Tonsil ni JM!
ISBN: 9789710495061
Weight: 0.09 kg
Description:
Written by Luis P. Gatmaitan, M.D.
Illustrated by Hubert Fucio
(Note: This book is written in English with parallel Filipino text)
Let Tito Dok take your child on another fascinating tour of the human body! In the newest story from the Mga Kuwento ni Tito Dok series, a pediatrician and award-winning author Luis Gatmaitan explores the tonsils. Know what happens when your child is down with tonsilitis. Through JM's story, Tito Dok shows children how swollen tonsils actually protect the body.
Tackle the basics of the human body and promote good health through stories! "Tito Dok" Luis Gatmaitan, MD makes medical concepts fun and easy to grasp through imaginative tales and amusing characters. Kids learn to value and care for their bodies as God's creation.