---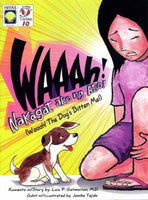 Mga Kwento ni Tito Dok #10: Waaah! Nakagat Ako Ng Aso!
ISBN: 9789715118439
Weight: 0.09 kg
Description:
Written by Luis P. Gatmaitan, M.D.
Illustrated by Jomike Tejido
(Note: This book is written in English with parallel Filipino text)
Maybe you know someone who was bitten by a dog, like Janella. But, do you know what to do if a dog bites you? Find out in this story about Janella and her puppy Bruna.
Tackle the basics of the human body and promote good health through stories! "Tito Dok" Luis Gatmaitan, MD makes medical concepts fun and easy to grasp through imaginative tales and amusing characters. Kids learn to value and care for their bodies as God's creation.