---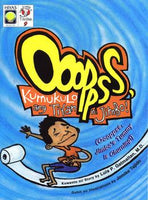 Mga Kwento ni Tito Dok #09: Oooppss, Kumukulo Ang Tiyan ni Jimbo!
ISBN: 9789715118392
Weight: 0.09 kg
Description:
Written by Luis P. Gatmaitan, M.D.
Illustrated by Jomike Tejido
(Note: This book is written in English with parallel Filipino text)
Tito Dok uses Jimbo's story to explain what is happening inside the stomach when a child has diarrhea or LBM.  This story shows how we can avoid getting diarrhea and what we can do when it attacks.
Tackle the basics of the human body and promote good health through stories! "Tito Dok" Luis Gatmaitan, MD makes medical concepts fun and easy to grasp through imaginative tales and amusing characters. Kids learn to value and care for their bodies as God's creation.