---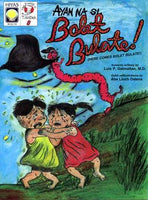 Mga Kwento ni Tito Dok #08: Ayan na si Bolet Bulate!
ISBN: 9789715114912
Weight: 0.09 kg
Description:
Written by Luis P. Gatmaitan, M.D.
Illustrated by Aba Lluch Dalena
(Note: This book is written in English with parallel Filipino text)
Most kids aren't mindful of being dirty. Tito Dok shows them how Bolet Bulate can worm her way in and make them sick.
Tackle the basics of the human body and promote good health through stories! "Tito Dok" Luis Gatmaitan, MD makes medical concepts fun and easy to grasp through imaginative tales and amusing characters. Kids learn to value and care for their bodies as God's creation.