---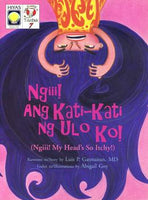 Mga Kwento ni Tito Dok #07: Ngii, Ang Kati-Kati ng Ulo Ko!
ISBN: 9789715117951
Weight: 0.09 kg
Description:
Written by Luis P. Gatmaitan, M.D.
Illustrated by Abigail Goy
(Note: This is written in English with parallel Filipino text)
Janet has lots of lice! Kids learn how to keep lice off their heads through the story of Janet and her funny, talking lice.

Tackle the basics of the human body and promote good health through stories! "Tito Dok" Luis Gatmaitan, MD makes medical concepts fun and easy to grasp through imaginative tales and amusing characters. Kids learn to value and care for their bodies as God's creation.