---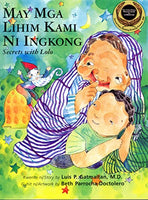 ISBN: 9789715116961
Author: Dr. Luis Gatmaitan
Category: Books by Dr. Luis Gatmaitan, Children / Hiyas
Weight: 0.09 kg

Description:

Written by Luis P. Gatmaitan, M.D.
Illustrated by Beth Parrocha-Doctolero

(Note: This book is written in English with parallel Filipino text)

A boy comes to terms with his grandfather's dementia. This story is based on the author's childhood experience. and was the 2000 Palanca 2nd Prize winner for Best Story for Children .