---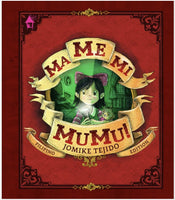 MA-ME-MI-MUMU! (Big Book Edition)
Illustrated by Jomike Tejido
₱295

13 x 15 • 32 pages • Full-color • Bilingual (Filipino-English) • Softcover • ISBN: 978-971-630-178-6



[Maybe there's a mumu in our house. They say monsters live in the dark. What if one night, I see one!]

This not-so-scary picture book by National Children's Book Awardee Jomike Tejido, casts Filipino supernatural creatures in a fresh, amusing light. Young readers will identify with young Haya Sophia as she overcomes her fear of monsters with the help of her Lolo Nanding.

This book includes a gallery of Filipino supernatural creatures on pages 30-31.