---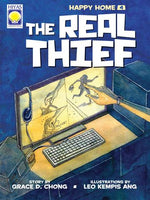 Happy Home #4: The Real Thief
ISBN: 9789710097678
Weight: 0.09 kg
Description:
Written by Grace Chong
Illustrated by Leo Kempis-Ang
Ped is arrested!
The police said he stole a briefcase so they took him to jail. What will happen to Ped? Will the Zambrano family make him leave their home? And is he the real thief?
The Real Thief is the fourth book in the Happy Home series. The series shows how a family faces big and small problems while enjoying God's everyday blessings.