---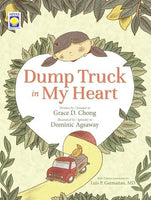 Dump Truck in My Heart
Description:
Written by Grace Chong
Illustrated by Dominic Agsaway
Filipino-Translation by Luis P. Gatmaitan, M.D.
This is the touching story of how a young girl, Liwa, learns to face the death of her grandmother. The book helps children handle grief.
It's been a year since Liwa's grandmother passed away. But the grief that Liwa feels is still as heavy as ever. Why does it feel like there's a dump truck in her heart?
Written in English with parallel Filipino translation.