---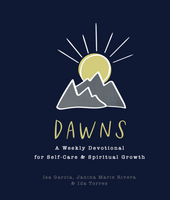 Dawns
Description:
Cover Art Illustrated by:
Crae Achacoso
"God is in the midst of her; she shall not be moved; 
 God will help her when morning dawns."
  - Psalm 46:5 (ESV)

Many times a woman's path is dimmed by heartbreak, loneliness, pain, self-doubt, and suffering. Where could she turn to find light?
This weekly devotional for women offers words of friendship, grace, joy, peace, and love. Written by three authors — Isa, Janina, and Ida — these pages tackle women's journey of faith, self-care, and spiritual growth.

Read the entry for the week...
Set aside time to meditate on the anchor verse...
Respond to the journaling prompt in whatever way you wish...
And remember, just when everything looks at its darkest,
soon will break a new dawn.