---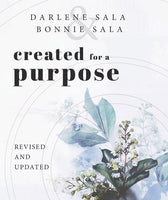 Created for a Purpose: Revised and Updated
Description:
There are days when you feel secure in who you are.
Strong and confident, you are ready to take on the world.
But sadly, not all days are like that.
One look at the cover of a celebrity magazine and you fall into the comparison trap. Out of nowhere, these thoughts intrude and steal your joy:
I'm worthless.
Nobody will ever love me.
I'll never be as pretty (or successful) as her.
Silence these lies with the truth. Let Darlene and Bonnie Lead you to the one who gives you worth. Packed with practical advice and wisdom from God's Word, this updated edition of a bestseller promises to encourage and inspire you.
Stop saying that you're good for nothing. Start believing that God created you for a purpose.