---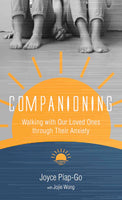 ISBN: 9789710098989
Description:
Do you have loved ones who are hurting or anxious? 

Do you want to help them but don't where to start? 
You are not alone. 
Companioning: Walking With Our Loved Ones Through Their Anxiety offers practical advice anchored on Biblical truths and compassion. 

Here you can find some useful tips to help you minister to loved ones who are struggling with their mental health, such as: 
What type of Listener you can be

 

Responding to Stress

 

Reframing Thought Patterns

 

Practical Ways to Ease Anxiety

 

… and more

 
Read on and see how you can share God's grace with your loved ones in a practical and caring manner.