---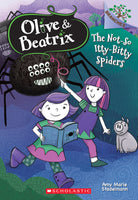 Branches
The Not-So Itty-Bitty Spiders: A Branches Book (Olive & Beatrix #1)
By : Amy Marie Stadelmann
FOR AGES: 5 - 7
CATEGORY: Chapter Books

This series is part of Scholastic's early chapter book line called Branches, which is aimed at newly independent readers. With easy-to-read text, high-interest content, fast-paced plots, and illustrations on every page, these books will boost reading confidence and stamina. Branches books help readers grow!

Twin sisters Olive and Beatrix don't often get along. Olive is "ordinary" and loves science. But Beatrix is a witch! She has a brain full of tricks, and she uses her magic powers to play pranks on Olive and her best friend, Eddie. In this first book, Beatrix ruins Olive and Eddie's latest science project. So Olive and Eddie play a prank on Bea. They rig up a bucket of spiders over her bedroom door. But when the spiders crawl into one of Bea's magic potions...WHAM! Giant spiders are on the loose! These sisters will have to work together to shrink the not-so itty-bitty spiders down to size!