---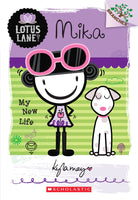 Branches
Mika: My New Life (A Branches Book: Lotus Lane #4)
By : Kyla May
ISBN13:9780545445191
Format:Paperback Book
Pages:96
Publisher:Scholastic Inc.
Genre:
Diaries and Journals
Weight (lbs):0.30300
Ages6 - 8
Grades:1 - 3
Lexile® Measure:680LL

The Lotus Lane Girls Club has a new member!
This series is part of Scholastic's early chapter book line, Branches. Aimed at 5- to 7-year-olds, this line of books is for children who are just starting to read independently. With easy-to-read text, high-interest content, fast-paced plots, and illustrations on every page, these books will boost reading confidence and stamina. Branches books help readers grow!

In this fourth book in the series, Kiki, Coco, and Lulu officially invite Mika to join the Lotus Lane Girls Club. The girls plan a surprise pajama party to welcome Mika to the club! Afterward though, Mika struggles to make time for all of the LLGC activities, Katy Krupski stirs up trouble (as usual!), and a new girl moves onto Lotus Lane!

This book is written as Mika's diary, with fun illustrations and doodles throughout.

Contributors:

Kyla May is an Australian illustrator, writer, and designer. In addition to books, Kyla creates greeting cards, stationery, fashion, and toys. She lives by the beach in Melbourne, Australia, with her husband and children. Visit her at kylamay.com.