---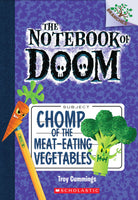 Chomp Of The Meat-Eating Vegetables: A Branches Book (The Notebook Of Doom #4)
By : Troy Cummings

Genre: Chapter book
Lexile Measure: 510L
ISBN: 9780545552998
Age Level: 6 - 8
Format: Paperback

This series is part of Scholastic's early chapter book line called Branches, which is aimed at newly independent readers. With easy-to-read text, high-interest content, fast-paced plots, and illustrations on every page, these books will boost reading confidence and stamina. Branches books help readers grow!

In this fourth book, Alexander is still on the look-out for monsters. Now he thinks they're at school.... The lunch menu is NOT normal -- instead of good-for-you meals, there's ice cream and pie every day. His whole class is crying. And his friend Rip goes missing. Alexander must battle giant meat-eating vegetables before the whole town becomes veggie dinner! Filled with humor, suspense, and zany black-and-white illustrations, this book will keep kids turning the pages!