---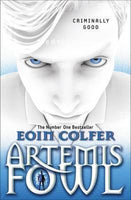 ARTEMIS FOWL

Rumour has it Artemis Fowl is responsible for every major crime of the new century.

Dimensions (cm) : 19.7(H) x 12.9(W) x 2.0(D) x 0.1(KG)
ISBN : 9780241335604
Author : Eoin Colfer
Publisher : Penguin Books
Type : Paperback
Pages : 430

Just twelve years old and already he's a criminal genius, plotting to restore his family's fortune with a spot of corruption and kidnapping.

Kidnapping a fairy for ransom, to be precise.

Artemis Fowl has discovered a world below ground of armed and dangerous - and extremely high-tech - fairies. But he may have underestimated their powers. They will fight back. Is the boy about to trigger a cross-species war?