---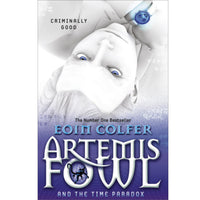 Artemis Fowl and the Time Paradox

Artemis Fowl is no stranger to trouble. In fact he's a magnet for it.

Dimensions (cm) : 19.7(H) x 12.9(W) x 2.8(D) x 0.1(KG)
Author : Eoin Colfer
Publisher : Penguin Books
Type : Paperback

Man-eating trolls, armed and dangerous (not to mention high-tech) fairies, flame-throwing goblins - he's seen the lot. He had decided to forego criminal activity of the more magical kind. However . . .

Now his mother is gravely ill. He must travel back through time to steal the cure from the clutches of the devious mastermind . . . Artemis Fowl.

That's right. With fairy ally Captain Holly Short by his side, Artemis is going back in time to do battle with his deadliest enemy yet.