---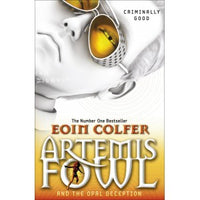 Artemis Fowl and the Opal Deception

Arch-Criminal Artemis Fowl's mind has been wiped. Now someone wants him dead.

Dimensions (cm) : 19.7(H) x 12.9(W) x 2.4(D) x 0.1(KG)
ISBN : 9780241335628
Author : Eoin Colfer
Publisher : Penguin Books
Type : Paperback
Pages : 341

Artemis Fowl is the only boy ever to have discovered an armed and dangerous fairy race living below ground. He just can't remember any of it.

But Artemis needs his memory back - and fast - because a power-crazed pixie is out for revenge, secretly scheming to overthrow the Lower Elements Police. If only Artemis's one fairy ally, Captain Holly Short, wasn't on the run. Everyone is depending on him.