---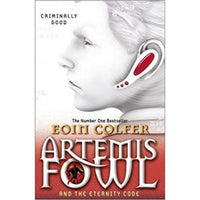 Artemis Fowl and the Eternity Code

Artemis Fowl is attempting to go straight. But there's always time for one last job.

Dimensions (cm) : 19.7(H) x 12.9(W) x 2.5(D) x 0.1(KG)
ISBN : 9780241335611
Author : Eoin Colfer
Publisher : Penguin Books
Type : Paperback
Pages : 328

Artemis Fowl has created the most powerful new supercomputer known to man - using stolen technology from an elite race of underground fairies.

And when the computer falls into the hands of an IT billionaire with a shady past and an alleged mob connection, Artemis is in deep trouble. The consequences for humans and fairies alike are deadly. Only one person, well, fairy, can help him now.