---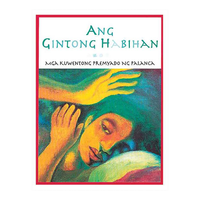 ANG GINTONG HABIHAN: Palanca Prize Winners for Children
Written by: Renato Vibiesca, Ma. Corazon Remigio, Augie Rivera, Jr., et al.
Illustrated by: Daniel Palma Tayona, Mark Justiniani, Lito Yonzon, et al.
A vivid illustration by the country's finest artists introduces each story in this anthology of ten Filipino children's stories which received the Don Carlos Palanca Memorial Awards for Literature.
Authors: Renato Vibiesca, Ma. Corazon Remigio, Augie Rivera, Jr., Simplicio Bisa, Rene Villanueva, Natasha Vizcarra, Luis Gatmaitan, Susie Borrero, Luna Sicat Cleto
Illustrators: Daniel Palma Tayona, Mark Justiniani, Lito Yonzon, Katti Sta. Ana, Ellen Ramos, Dindo Llana, May M. Tobias, Bernadette Solina, William Gaudinez, Jose T. Badelles

Size: 7 x 9 in
ISBN: 971-630-094-8
Year Published: 1998