---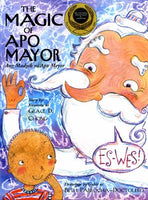 The Magic of Apo Mayor
ISBN: 9789715117081
Weight: 0.09 kg
Description:
Written by Grace Chong
Illustrated by Beth Parrocha-Doctolero
(Note: This story is written in English with parallel Filipino text.)

Apo Mayor is a mystery to every child in the town of Umingan. The gigantic old man has a white hat and white hair, a frown behind his white beard, even a white suit and white slippers. He goes around town and shouts "ESWES!" every time he sees something that pleases him. But no young boy or girl has ever heard Apo Mayor shout "ESWES!" That's why they are all afraid of Apo Mayor. Except for Teo. Discover what's so special about Teo and the magic behind Apo Mayor in this winner of the 2001 Don Carlos Palanca Memorial Awards for Literature (First Prize, Short Story for Children).