---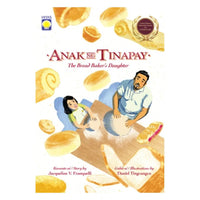 "I'm not little anymore!" insists Niña, who'll soon be 12. When she goes with her father to his workplace during school break, the spirited girl who can't wait to grow up discovers the magic of biding one's time, baking breads, and her beloved father. Will Niña's mind ever change about never wanting to become a bread baker?
Anak ng Tinapay is a story about a spirited young girl who can't wait to grow up. It shows a picture of a baker's life and the breadmaking process while teaching about sacrifice, hard work, and love for family.
AWARD: 3rd Prize, 69th Carlos Palanca Memorial Awards for Literature–Short Story for Children (Filipino Category)
BOOK DETAILS
AUTHOR:
Jacqueline Franquelli
ILLUSTRATOR: 
Daniel Tingcungco
LANGUAGE:
Filipino & English
FORMAT: Softcover, Chapter Book 
ABOUT THE AUTHOR
JACQUELINE V. FRANQUELLI graduated with a bachelor's degree in Broadcast Communication from the University of the Philippines–Diliman and a master's degree in English Language and Literature Teaching from the Ateneo de Manila University. A teacher and writer, Jacqui finds joy in writing children's stories and verses in Filipino—about a typical Pinoy child's ordinary yet meaningful and memorable experiences. She hopes that Anak ng Tinapay will be a delightful reading experience for anyone who picks up the book, which she also translated to English.
ABOUT THE ILLUSTRATOR
DANIEL TINGCUNGCO is an illustrator and art director from Manila, Philippines. What once started as just a hobby and stress outlet, illustration became an important part of his life and creative growth. Always inspired by the colors and light of everyday life, his vibrant works have since appeared in collaboration with partners and clients on various media such as murals, magazines, record albums, posters, packaging, and brand identity. He graduated from the University of the Philippines– Diliman College of Fine Arts, majoring in Visual Communication, and is a proud member of Ang Ilustrador ng Kabataan (Ang InK).